Journal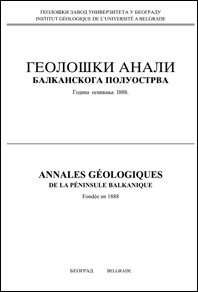 Geološki anali Balkanskoga poluostrva is an international, double-blind peer-reviewed, open-access journal published by the University of Belgrade – Faculty of Mining and Geology, Department of Regional Geology and Department of Palaeontology, in both - print and online versions. The online version is free to access and download.
Geološki anali Balkanskoga poluostrva publishes original scientific contributions over a wide range of topics in any field of the geological sciences.
The scopes of the journal include the following fields: geodynamics, tectonics and structural geology, geochronology and isotopic geology, stratigraphy, paleobiology, paleontology and biostratigraphy, geochemistry, mineralogy, petrology, sedimentology and palaeoenvironment analysis, subsurface hydrology and geology, geological hazards and other branches of applied geophysics, economic and environmental geology.
Interested in submitting to this journal? We recommend that you review the About the Journal page for the journal's section policies, as well as the Author Guidelines.
E-library of Geološki anali Balkanskoga poluostrva can be found HERE